Poznan Supercomputing and Networking Centre was one of the organizers of the European Robotics Week 2019
13-01-2020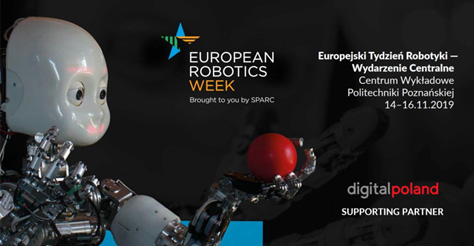 Poznan Supercomputing and Networking Centre (PSNC), partner in MIDIH, was one of the organizers of the European Robotics Week 2019, that has been held in Poznan, Poland from 14 to 16 November 2019. Representatives of companies and institutions from several European countries had taken part in discussions about the future of robotics and artificial intelligence in Poznań, western Poland, from 14 to 16 November 2019. European Robotics Week is a series of events that  take place throughout Europe. According to organisers, Poznan has been the first Polish city to host the central event.
The MIDIH Partner PSNC has shown his solution based on the MIDIH Arrowhead Framework that demonstrates direct interface between the service customer and the machine, where the leading scenario for implementation is a representation of a micro-production line (the robotic arm) that completes a production order in accordance to demand from a system client, who selects and "consumes" a predefined service, which acts as an interface with the processing line.
More detailed information can be found on the MIDIH PSNC publication "Usage of MIDIH opensource tools in production industry: production order execution with robotic arm demonstrator".