Logistics 4.0: trends, technologies, and a concrete experiment with OLOGER
23-12-2019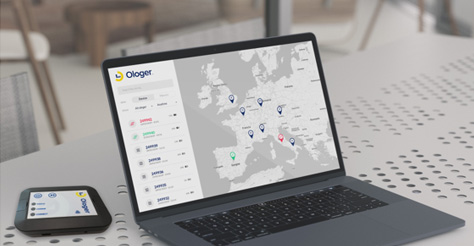 Within the European project H2020 MIDIH (Manufacturing Industry Digital Innovation Hubs) and in collaboration with the Centro Ricerche Fiat, FCA Group, Cefriel is testing a Smart Logistics solution based on an IoT device for industrial logistics called OLOGER (Outdoor LOGistic trackER) and on a web application for the devices fleet management and the data visualization and processing. OLOGER allows to track the position of the goods to which it is applied and to detect events such as the variation of the storage temperature, humidity, possible shocks, and vibrations suffered by the goods. The data is then transmitted through the cellular network (worldwide operational coverage) to be analyzed through the application of Smart Logistics, developed within the project, which provides information on the status of shipments to all the stakeholders involved.
The manufacturer can therefore estimate risks related to the shipping and can alert those who are handling the transport preventing the goods from being damaged.
A typical use case is, for example, the transport of monitors or electronic equipment. Knowing a variation in the inclination of the package containing them could allow the senders to ask not only for integrity verification but also for any intervention aimed at restoring ideal transport conditions.
Another logistics sector that could leverage such a system is the one of medicines shipments. It is crucial to know whether the product is undamaged and can be taken by a patient. And its integrity is defined by the conditions of travel, for example by the temperature that one has been able to maintain. It becomes of vital importance to be able not only to reschedule a new shipment in a very short time, but also to alert the customer on the possible non-integrity of the product.
OLOGER and the smart logistics solution have been tested on the field with CRF, to track the quality and position of car parts and sub-assemblies' shipments between the various plants on the Italian territory. The events (temperature variation, humidity variation, shocks…) to be detected can be diversified according to the product characteristics. Moreover, using an IoT mobile network for data transmission, this device can be used practically anywhere in the world.
The European project MIDIH acted as a catalyst by providing a series of tools at the digital platform level for the collection, management, and processing of data, used by Cefriel for the development of the application, and by directly connecting Cefriel and CRF (early adopter of the solution and Lighthouse Experimenter within the project).
The whole article can be found at this link.
This article is a summary and translation of the original articles published by TechEconomy in collaboration with Cefriel: IoT, Big Data, AI per la logistica: il caso OLOGER and L'evoluzione della supply chain