Join MIDIH at the Fiware Summit 23-24 October in Berlin
18-09-2019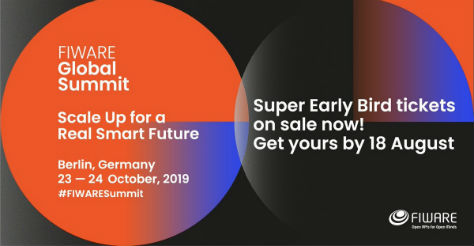 FIWARE continues to evolve globally to be what smart economies need us to be: fueling your growth strategies through scalable innovations, open, reliable, and really smart. As part of MIDIH project, its goals will be presented at the FIWARE Global Summit in Berlin on 23-24 October and attenders will learn about the world's smartest open companies, cities, universities or developers are doing differently to succeed in tomorrow's digital economy.
During the FIWARE Summit the professionals will be able to discuss the following topics related to the MIDIH project:
• Trends and the Disruptive Future' (FIWARE with AI, Blockchain, Big Data, IoT, …).
• iHubs Growth Program and new 'Do-It-Package'.
• Spanning Smart Industry, Smart Energy, Smart Agrifood with a special track on Smart City showcases.
• Finally, the attenders will also be able to join Hackathon'19: a unique event to support innovation that will give you the opportunity to:
- Use the power of the FIWARE open source technologies, as well as the Context Broker as a CEF Building Block, for your own benefit.
- Show off your innovative ideas aimed at developing new services/applications in the sector of Smart Cities, Smart Manufacturing, Open Data, and Smart Agrifood.
- Winners will be awarded access to 1 year of technical services for free provided by the FIWARE Foundation, or to receive 1 year of free social media promotion and global visibility thanks to the international channels of the FIWARE Foundation.
Learn more about it: https://www.fiware.org/summit/startup-day/hackathon/