Experiment description
Assembly of automotive wiring harnesses is still a process with mostly manual work. Due to increasingly stringent quality requirements coupled with the demand to lower production costs and miniaturization, there is a strong move towards automation and use of robots. The main objective of the E-ROBOTIC experiment was to explore and promote the usage of AR technology on specific robotic machines targeting this industry. This goal was achieved by bringing an AR-based User Interface for a Robotic Seal Inserter,  allowing an operator/technician to access and visualize machine data/information required for maintenance operations, training-on-the-job, real-time monitoring of machine KPIs. The AR interface includes a predictive maintenance scenario to explore further automation possibilities.
Technical impact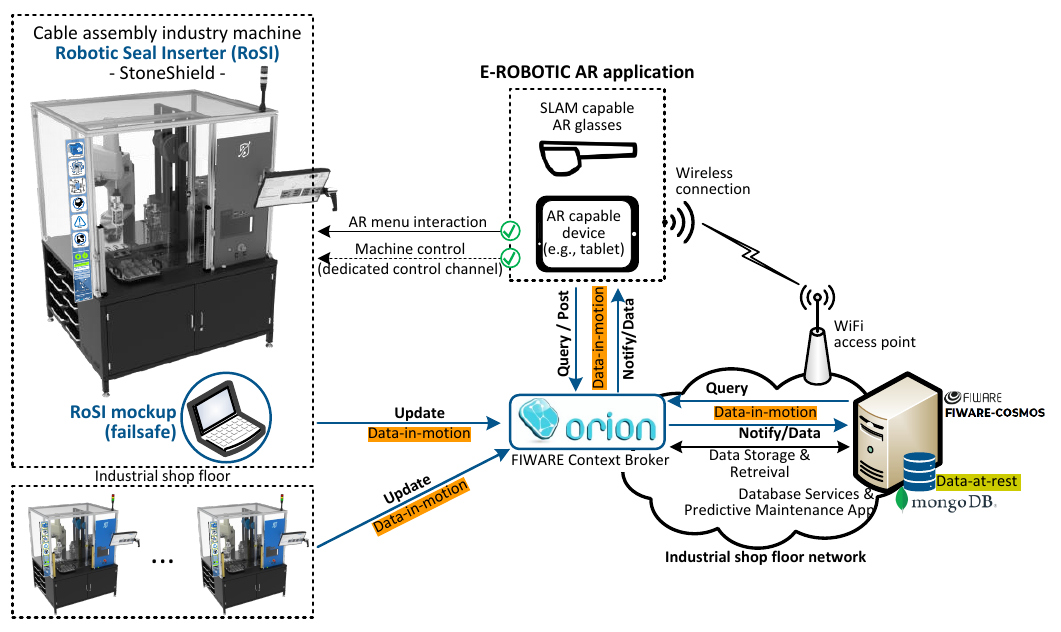 The FIWARE ORION Context Broker, with Mongo DB, has been used and proofed suitable for typical shop floor data exchanges. When requiring access to large files (e.g., machine manuals with hundreds of high-quality images) or streaming services (e.g., training video tutorials), a mixed approach is needed for accessing the Data-at-Rest (DaR). For such scenarios, and taking into consideration scalability reasons, the volume of data that traverses the context broker must be minimized - specific DaR resources (e.g., documents, images, videos), should be configured in the MongoDB with minimal information, sufficient for retrieving the resource from other location(s).
Economical / Business impact
The targeted manufacturing companies will benefit from the following:
Decreased machine downtime (from 20% to 5%) by empowering the worker to achieve faster maintenance operations;
Extended machine lifetime and increase worker safety by minimizing improper operation scenarios;
Decreased cost of training (up to 70%) and shorten ramp up phase of new employees, by providing an improved and enjoyable training process, therefore mitigating the negative impact of skills shortage in automation and robotics;
Reduced logistics effort by providing appropriate (and always updated) working instructions;
Reduced human caused errors during machine configuration and maintenance operations;
Less waste and inefficiency of paper-based documentations and procedures, with two-way access to digital information;
Increased competitive advantage, by achieving a more efficient worker-machine relation;
Facilitated discovery of new opportunities for product improvement, by exploiting AR's capacity to provide new kinds of feedback on how end-users in the field interact with the machines;
Decreased defect rate (up to 40%), thanks to the Predictive Maintenance algorithm.
The overall impact for Allbesmart business is:
Expected increase in the number of new customers (up to 40%);
Expected increase of revenue (up to 30%);
Expected number of new jobs created (up to 20%).