Experiment description
MID3 aimed at implementing a reconfigurable Digital Twin and Simulation avatar of the Polytechnic of Milan didactic factory fully integrated with the MIDIH-RA. The I4.0Lab factory is an assembly of several reusable and general-purpose functional components, therefore, the experiment focused on creating their elementary Digital Twins and interfacing them with the real counterpart through the MIDIH infrastructure deployed at PoliMi.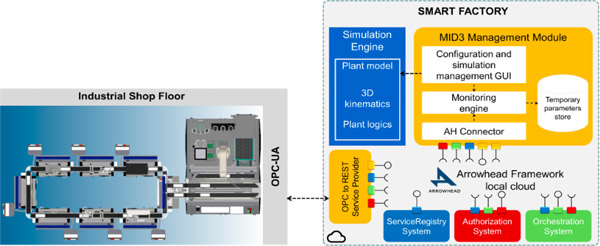 Economical / Business impact
The experiment deals with the creation of a digital twin for the I4.0Lab of the Polytechnic of Milan, meaning that there is not a direct link with a business plan, or an evaluation of costs needed to bring the solution on the market. Once deployed, the MID3 solution represents by itself a relevant showcase of the potentialities of the I4.0 Technologies provided by TTS and of the opportunities deriving from the integration with an Arrowhead Framework. The real use cases of application of advanced I4.0 technologies creates immediately benefits in terms of perception and understanding from the companies side, especially SMEs, that have the opportunity to touch working systems and evaluate the timings to implement real solutions. Now, the fruitful collaboration with the Polytechnic lays the basis for a continuation of the activities with the training of the I4.0Lab technical staff to use the simulation synchronized with the real plant to carry on future research activities.